Easy Home Workouts For Beginners
Online and easy home workouts have been quite popular because staying active with exercise takes a very large role in our physical and mental well-being. We promise, you're not alone in feeling motivation when there are heaps of distractions going on (from working from home, kids, pets, the list goes on) and you're probably wondering how to keep things going while it may not be possible to hit the gym anytime soon. Thankfully, there's a lot to love about doing at-home workouts to tap into that'll be great for all levels of fitness, especially if you're a beginner. First of all, they're free, convenient, require no expensive equipment and did we say they cost absolutely nothing?
Body Positive Reasons To Work Out
When Lizzo shared her intense workout routine online while telling everyone, that you - YOU'RE BEAUTIFUL in her latest Tik tok video captioned, "Seen a lot of slim chicks posting their workouts on her so I thought I'd join the fun." Damn those were some power moves. The world just received their new motivator we thought we didn't need and we just love her even more for inspiring women of plus size in every shape with body positivity.

Fitness experts say that there are body positive reasons to work out and sometimes it has nothing to do with weight. Working out gives you more energy, helps with productivity, mental clarity, better skin and even reduces stress and aids a good night's sleep. Lizzo's Tik Tok workout routine is in fast motion, but you can still get a glimpse of her intense moves with a at-home gym set giving us major envy. If you can take your eyes off Lizzo's #fitnessgoals she is glistening, looking oh so strong and we have a whole new appreciation for these artists who have built up these stamina's on stage.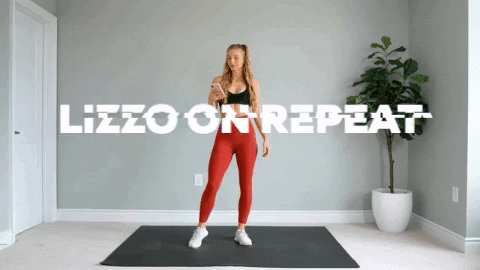 How To Do Beginner Workouts

If you can set up a workout space at home that you enjoy to be around in, that's the first step to "How to do beginner workouts at home." We suggest filling your space with positive mantras like fun decor, your fav body movin' playlist (or relaxing tempo) and maybe even your cutest sneakers, leggings and workout top with a quirky exercise mat if you have one. It can actually be beneficial to engage in mindfulness practice. You're going to be less consistent if you're in a space you dread working out in. So let's get those positive endorphins released because we're here for all the feelings!

Planning a workout routine at home for a beginner will be the same as you would as if you're going to the gym. Know your plan of objectives, for instance if you just want to get your body shakin' or what exercise routine will be the most effective or a cardio friendly routine (that's totally apartment friendly.) Beginner home workouts just got easy when there are plentiful of "How to: home workout" tutorials, live Instagram streams and fitness apps available on hand to get your sweat on. From very low intensity workouts to just stretching, go at your own pace, have fun doing it and remember to focus more on how working out makes you feel rather how working out makes you look good - you'll be unlikely to burn yourself out.

Learn Tik Tok Dances

Once again, Tik Tok is here to save the day. In an effort to feel savage, classy and bougie at home right now… cut up your living room with some Tik Tok Dance Challenges! It's an easy at home workout plan without equipment - just an awesome way to stay active and entertained. When there are billions of #dancechallenges to choose from, mix up your at home fitness with dance routines that best suits you. The great thing about learning Tik Tok dances at home is, there are all kinds of routines for beginners, they are fun, versatile and you can make it as easy or hard as you want. You'll be sweating and jumping and dancing around with your arms wiggling!

Tik Tok dances for working out will have you mastering the tunes of Savage x Carole Baskin remix alike and what's even better is that you don't have to do this at home by yourself. How to learn Tik Tok dances for DIY home workouts can involve your housemates, boyfriend or even film a video split screen with your social distancing friends. From quick steps to moving your hips, if you aren't trying these dances yet, where have you been all this time? Who knew that it was fun working out at home and learning Tik Tok dances. You'll even be bursting out in laughter trying to nail the routine and burning calories without noticing it.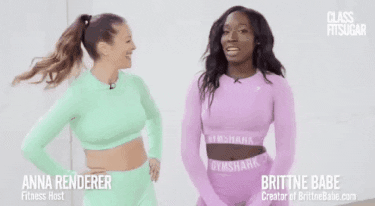 How To Stay Healthy And Motivated To Workout

Need Inspiration for a new fitness home routine? There are many workouts for beginners for you to stay happy, healthy and motivated to workout at home. Make it a "stick with it challenge" with some simple rules. Here's the following home workout challenge:
Choose any day/time that best suits you and set your challenges (ie. 3 workouts a week at a 4 week challenge)

Download a fitness app or save your fav Youtube workouts or set that reminder for a live stream channels 

Mix up routines and aim for 20 minutes for a beginner to feel energized than as weeks progress adjust for 40 minutes to an hour once you're a pro! 

From basic challenges to full body routines, change up your workout intensity per week

The best home workout routines don't require any equipment to exercise with at all. When there are countless dances to learn, and quick and easy workout ideas to stay motivated - it's a great way to keep your body and mind moving even if you're someone with a jam packed schedule! Whether you want to boost your energy, get your sexiest body ever or improve your core strength, you'll be crushing it in no time.
Let us know in the comments below if you'll be trying these easy at home workout for beginners. Will you be trying Tik Tok dances for #fitnessgoals?
---